Create Power of Warmth behind Greatness--Development philosophy of Viseen Software Park
Going out of Exit C of Keyuan Subway Station, crossing one intersection and then turning left to enter an open avenue, you will hit a green park ahead. Totally different from surrounding up-down rowing and crowded office buildings, the park looks like a quiet and serene university campus where trees shade the street and flower fragrance spills over. The clear bird singing, enthusiastic discussion and footstep on sports ground make you forget you are in a bustling central urban area. Here is Viseen Software Park--a benchmarking industrial real estate project of Gemdale Proprieties & Investment and one of the first batch of science and technology industrial parks in Nanshan District, Shenzhen as well, where numerous Fortune Global 500 enterprises and science and technology elites gather. The park has won many honors and government awards, and received visitors of the same industry from all over the country.
Located in the core belt of Shenzhen Nanshan High-Tech Industry Zone with a total floor area of 150,000 square meters, Viseen Software Park covers the headquarters, R&D office, business apartment, characteristic business and others.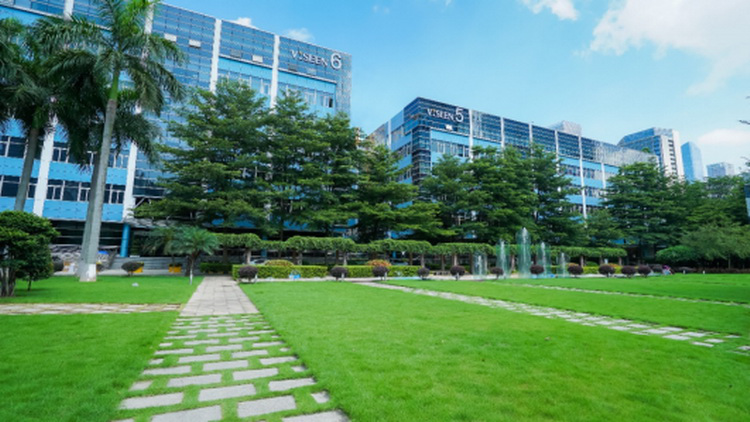 View of Viseen Software Park
Here, plenty of innovative high-tech corporations started their glorious career courses, searching for the power to change the future. The park gathers thousands of industrial elites and a number of Fortune Global 500 enterprises, making it the Holy Land in the industry.
Viseen Software Park has been constantly revitalizing in architectural space, environmental greening, operation service and other aspects over 17 years of time baptism. It, as always, sticks to the vein of science and technology and the mission of serving the public, and leads development trend of science and technology industrial parks in Shenzhen.
"V CLUB" erects sharing platforms for enterprise development
With constant development of Internet technology and opening of the innovation tide, science and technology enterprises usher in development outburst. Obviously, just one building on one street can no longer meet the increasing enterprise population, and subdivided characteristic industrial parks are born at the right moment to satisfy market needs.
Therefore, Viseen Software Park throws itself into the development trend of science and technology. It has attracted plenty of top science and technology enterprises since its opening. There are now 55 enterprises in the park, with services covering 6 Fortune Global 500 enterprises (Intel, Amazon, West Digital Corp., EPAM, etc.), DJI, Goertek and other high-grade advanced enterprises representing the future development direction of science and technology.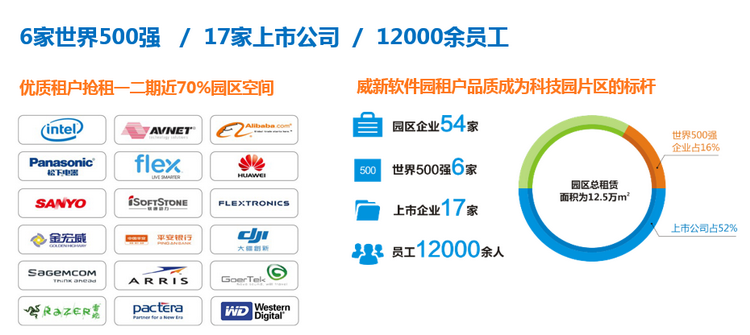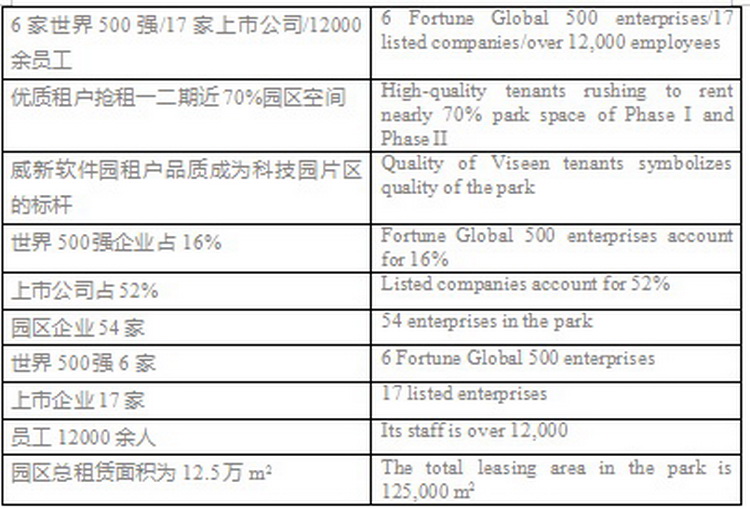 Similar to upgrading science and technology, Viseen Software Park is ever changing too. Not only is the park a real estate project, but also an industrial community integrated with physical space, financial service, market linking, innovation and incubation and policy resources.
Gathering of enterprise resources gives play to the aggregation effect of the industry. V-CLUB "Viseen • South China Elite Club" was established in Viseen Software Park, gathering numerous high and new tech Internet enterprises inside and outside the park and collaborating with industrial opinion leaders, senior executives from famous enterprises and others to build inter-enterprise resource exchange platform. Besides, the park also helps enterprises search for external exchange windows, regularly inviting government departments and policy experts to guide enterprises to better comprehend policies related to science, technology and talents and help enterprises to better adapt to policies and develop on a better policy platform.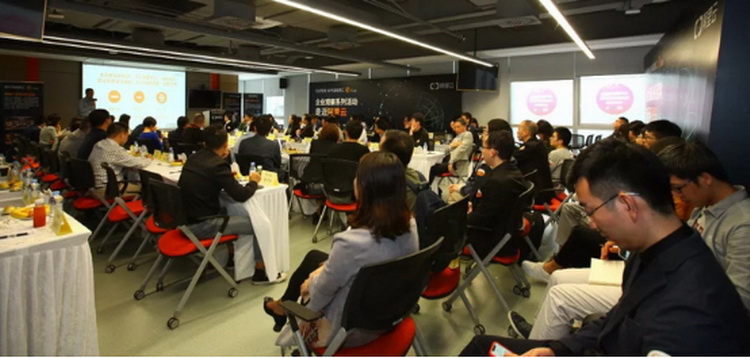 "South China Elite Club" V-Club closer look at Aliyun
Create Power of Warmth behind Greatness
Besides erecting internal and external exchange platforms, Viseen Software Park also provides VIP enterprises with customized, multi-level and all-round exclusive services. Currently, it has provided customized services for 6 Fortune Global 500 enterprises and 17 listed companies.
Effectiveness of such exclusive service has been gradually showing up, and DJI's constant growth here can best testify this. DJI gradually expands its original business of pure research and development in Viseen Software Park to "R&D + market" through customized services and circle construction. The park also equips Intel China R&D Center and Sales Center with data room and exclusive bearing stratum with two-circuit power supply system, and exclusive customer managers and floor customer service personnel as well.
Every great company starts from a small one. Viseen Software Park is devoted to growing into a green startup ecosystem accompanying enterprises in it in their entire development course and sparing no efforts in providing all-round supports for startup enterprises. Ibase Joint Office Platform also provides startup enterprises with financial leasing, joint office, maker coach, enterprise administration and many other enterprise growth services, helping them improve management efficiency.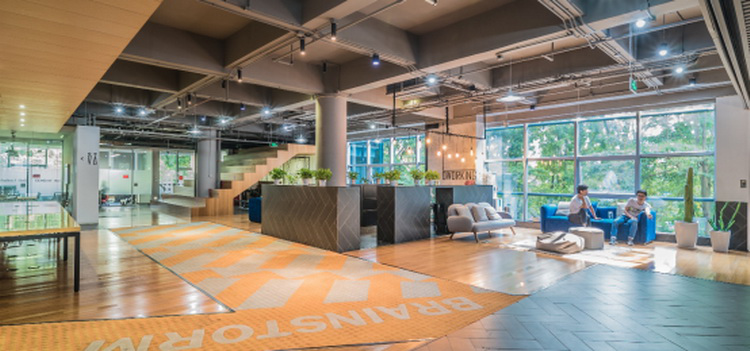 Ibase united office
General Project Manager Liu Ling told the journalist with Time Weekly that Viseen Software Park devotes to maintaining its "vigorous" quality even after several decades, and will chose more potential cutting-edge science and technology enterprise in the leasing business, such as high-end chip, artificial intelligence and big data. Compared with short-term rent income, Viseen Software Park pays more attention to the future.
Work and life, we can have both
Pink and white flowers bloom in green trees, and warm sunshine flows through dense leaves, leaving golden beam spots on ground. This is the most common scene in the park. Even in the urban center where an inch of land values an inch of gold, greening ration in the entire park still exceeds 30%. What's more, it integrates three-dimensional ecology into office space where beautiful scenes are close enough to touch.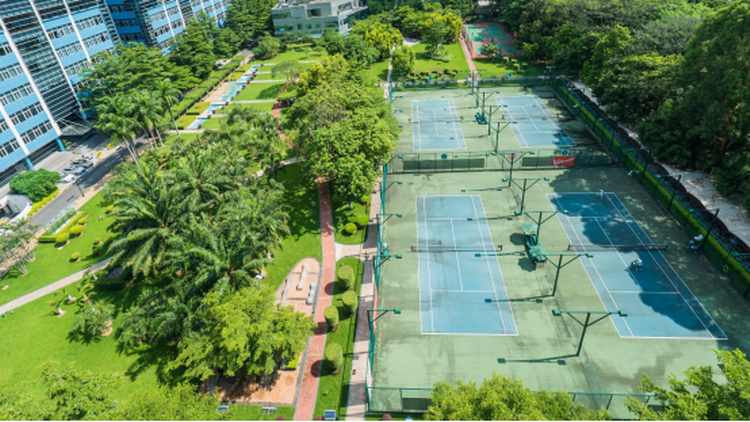 Grand view of the park
Besides landscape office environment, the park also combines with basic living demands of enterprise employees to improve park supporting facilities from multiple dimensions including catering, sports and entertainment, social contact and education.
Viseen Software Park's operation management does not only provide office functions and basic services, but solve life pain points of office workers outside the 8 working hours, creating high-quality living experience. Currently, supporting facilities in the park include youth-targeted apartment, Chinese and western dining rooms, convenience stores, kindergarten, fitness room, tennis court and basketball court. Employees can accompany their children, work out and enjoy social contact and entertainment while working here. As for life and work, you can have both here.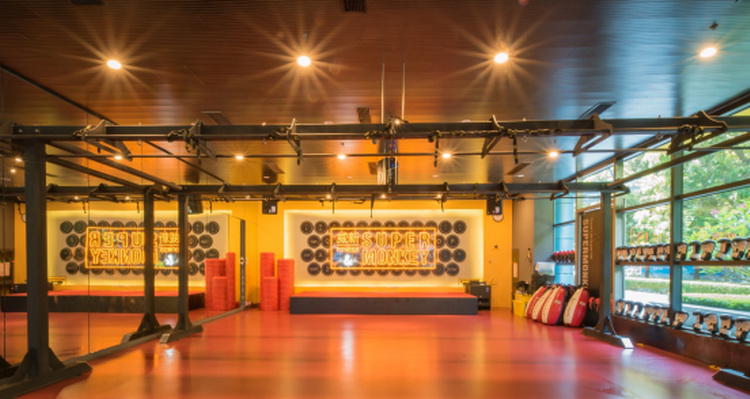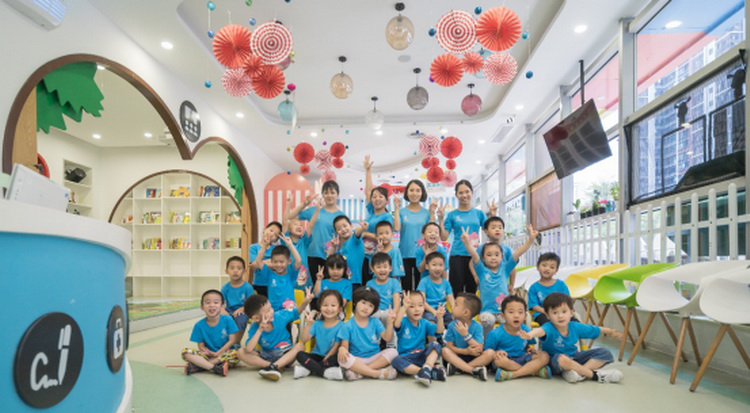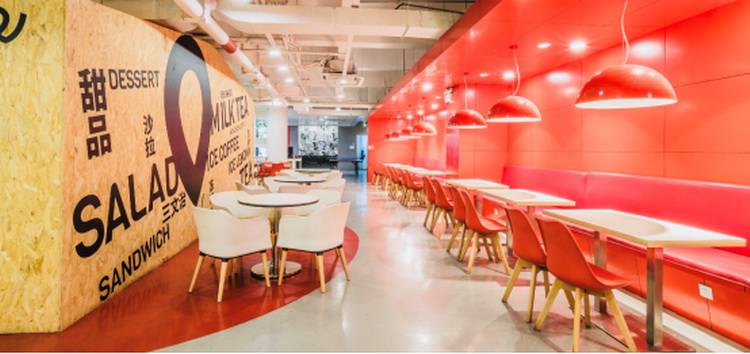 To make the work and life in the park more convenient, Viseen Software Park has also forged exclusive Viseen LINK + APP for enterprises and employees to realize sharing and linking of the park services and information. The APP can deliver various services including one-button repair report, online booking basketball court and tennis court and take-out food.
Besides the huge investment into hardware, the park pays more attention to soft services, organizing series of activities on holidays such as Party for Singles and basketball games, which has effectively reinforced interaction among elites in the science and technology industry. Viseen Software Park provides not only office site, but also social contact platforms to bring out vigor of the young.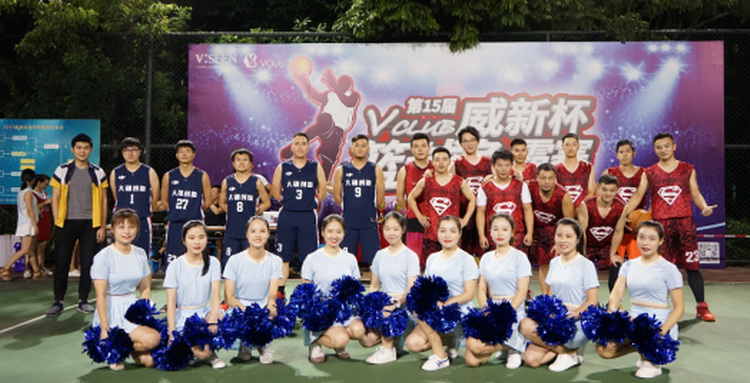 Whole-scene service, turning warmth into action
Different from the leasing business of traditional office buildings, Viseen Software Park focuses more on long-term return on assets in terms of business investment. Business attraction and leasing of the park are not limited to short-term rental yield, but more inclined to introducing powerful and potential high-quality enterprises, thus ensuring stability and growth of returns. The park keeps launching diversified value-added services, trying to create higher property values and brand identity than counterparts, thus attracting more outstanding enterprises.
"High-quality environment and considerate services also bring high premium price to Viseen Software Park. The letting rate can reach 100% all year round." General Manager Liu Ling told the journalist.
In the future, the park will continue to introduce in the concept of "whole-scene service", organically integrate with industry chain, incubator and other elements and resources supporting enterprise development, and build interconnected and co-existing win-win industrial ecosystem; meanwhile, it will pay constant attention to talents' demands, forging a comfortable, convenient and interactive office and living space for them.
According to information, Gemdale Viseen Phase III under construction contains 2 super-high-rise 5A office buildings, podium office and commercial facilities. Following the future development trends of green office, intelligent office and symbolic office and centering on user demands, the project applies combination of "cube" + "square box" to create larger social-contact business space, implying the possibility of knowledge upgrading and infinite innovation. Mini-park design as shown in everywhere and concept of overall Vertical Park perfectly combine science and technology with ecology. Although it is high-rise office buildings, Viseen Phase III still holds the concept of the park in terms of building design, environment greening and service and operation, standing behind these great enterprises as always and turning warmth into driving power for enterprises.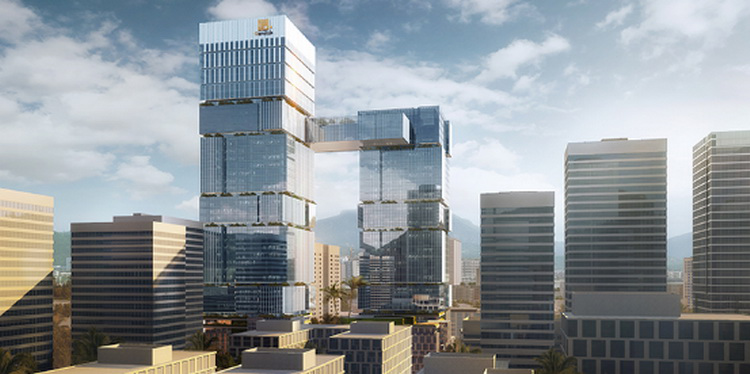 Viseen Phase III (under construction)
About Gemdale Viseen:
Gemdale Proprieties & Investment established a holding subsidiary specialized in industrial platforms, "Gemdale Viseen", which focuses on the high technology, new energy, big health, new cultural creation and other fields, with products covering scientific innovation park, intelligent manufacturing park, cultural creation park and characteristic town (in planning).
In terms of regional layout, Gemdale Viseen has entered multiple first-tier cities and strong second-tier cities including Beijing, Shanghai, Nanjing and Hangzhou, with total investment exceeding ten billion. 7 projects have been obtained in Shanghai wherein 4 of them are already under operation. Besides in China, Gemdale Viseen also has industrial projects laid out in New York, San Francisco, Los Angeles and other places in the United States.
Gemdale Viseen takes growing into a "Chinese Industrial Development Partner" as the constant development target in its future development strategy for industrial real estate. It will take industry as a core and real estate as a carrier, lock to high-value industries, and introduce more international high-end leading industries in China, thus enabling to support industrial structure upgrading and help more Chinese enterprises to go global.